From our Archives, a look at the Kips Bay Designer Show House 2018. Although the event has been cancelled this year, the organization is in need of funding that the Show House provided.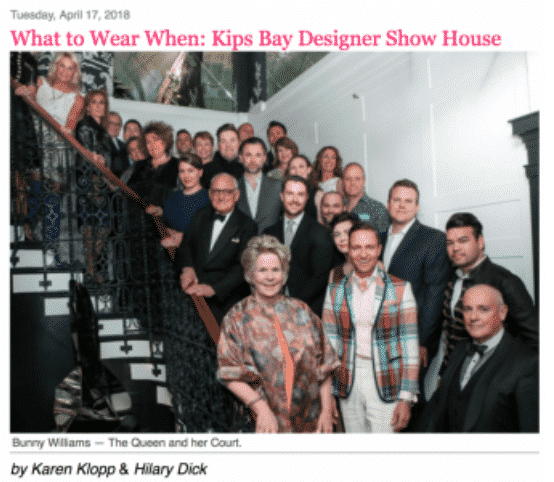 One of the gifts of spring to lovers of design and decor par excellence, is the Kips Bay Designer Show House. Now in its 46th year, providing funds to programs for the young in our city and inspiration for the thousands who pass through the hallowed portals from May 1 to May 30. Judging from the bold scheme of the invitation, the upcoming presentation is sure to satisfy those seeking visual inspiration and invigoration.

Bunny Williams, the Queen and her Court
Bunny Williams, Alexa Hampton, Jamie Drake, Celerie Kemble

Richard Mishaan

Timothy Brown

This year's real estate platform is a 36' wide townhouse at 110 East 76 Street, boasting 15,000 square feet on 7 floors. Every room, stairwell, nook, cranny, floor and ceiling is an opportunity for unbelievable ornamentation and embellishment. It will be "ready for its close-up" at the Preview Party, on April 30 when designistas, photogs, editors and blogists swarm en masse, sprinting the seven stories in stylish stilettos, to ooh and ahh at the eclectic vignettes.

Photos by Stacey Bewkes Quintessence
The artful compositions that are assembled under one roof by the leading designers of the day is staggering. There is an exuberance to the evening as friends pass on the the stairs with a string of "did you see?" and "do not miss!" and "can you believe?" The assemblage of styles can ranging from the lavish and luxurious, portieries dripping with passementerie, to a crisp, cutting-edge, contemporary creation. Each will be carefully reimagined, curated and engineered with the latest bespoke fabrics, furniture, wall coverings and accessories.
Kirsten Fitzgibbons and Kelli Ford?

Nick Olsen

Jamie Drake, Brian Sawyer, Michael Boodro, and Cynthia Frank
Jamie Drake contemplates the prestige and challenge of engineering such a project. "It's a great honor to get the nod to create a space in Kips Bay, the premier house in America, but you have to be ready for quite a sprint. Agreeing to design a room in the show is definitely a design challenge, in the mode of all the reality shows we see now, but pre-dating those by decades. The time frame is excruciatingly tight, and of course every participant wants to present an Oscar winning performance. Begging, borrowing and trading on good will is required to pull it all off. It's show time!"

Bunny Williams, Nazira Handal, James Druckman

Randy Kemper, Bunny Williams, Martyn Lawrence Bullard, Martha Stewart, Tony Ingrao
Bunny Williams concurs on the whirlwind aspect of designing a coveted space "Doing a room at the Kips Bay Decorator Show House is daunting not only because of the timeline – you typically only have about 6 weeks to complete your room, but also because you often don't have the most beautiful space to work with, so the designer has to be so creative so that you don't focus on the space's drawbacks – but regardless of all of that is such fun."
John McEnroe

Susan Magrino, Katie Ridder at the Pre-Renovation Party
And our friend, and lover of bright colors, Katie Ridder, gives us a sneak peek at her guest room and the significant thought that goes into every detail. " My room was conceived as a guest bedroom – a calm retreat of sorts from the hustle-bustle of New York City. Intentionally feminine, comfortable and serene, the concept started with the premise that the walls would be a special pink from Farrow and Ball. The walls are tailored by curvilinear, red stencil borders executed by my long-time, favorite decorative painter, Chuck Hettinger. For the carpet, I chose an Oushak with pretty reds, pinks and blues with sync perfectly with the pink and red walls. To add style to the functional necessities, I lacquered the bedside tables and upholstered the headboard and footboard in faux fur. The result, I hope, is a room my guest would be happy to return to after a stimulating day in the city." It sounds divine and cannot wait to see it in person. Aside from Opening Night, I generally return at least 2 times to more closely observe the divine details.
Robert Stilin

For our What to Wear moment, Hilary, as usual, is right on trend with these perfectly pastel prints. "I am jumping on the pastel trend for spring. And these pretty pink dresses are a perfect nod to the look. With feminine ruffles and festive patterns they are easy to wear. To accessorize these dresses we went with more stand out accessories playing on the pastel theme.

dresses: Saloni Anita Pink Ruffle $635 / A.L.C. Misha $495 / Nicholas Strappy Ruffle-Trimmed Floral $698 accessories: Deepa Gurnani Penelope Floral Chain Earrings $225 / Lizze Fortunato Pastel Column Earrings $230 / Proenza Schoulder Lunch Bag Small Metallic Clutch $895 / Cult Gaia Lilleth Acrylic Small Bag $328 shoes: Aquazzura Bon Bon Studded Leather Sandals $995 / Schutz Lucite Strap Suede Sandals $180
I followed Hilary's lead and found a Milly Dress as a perfectly feminine, floral frock for spring flings. The punch of bright color is the right updated touch. This is a silhouette that will flatter any figure. To embellish, Oscar de La Renta floral earrings, continue the theme. We are smitten with all of the fabulous peek-a-boo shoes this season, and chose neutral bags by Lowe and Gucci, to lighten the pallette.

dress: Milly Audrey Rose-Print Georgette Wrap $495 accessories: Oscar De La Renta Pavé Swarovski Crystal Flower Clip Earrings $420 / Oscar De La Renta Brushed Textured Flower Drop Clip Earrings $290 / Loewe Large Logo-Embossed Leather Zip Pouch $650 / Gucci Soho Leather Disco Bag $1190 shoes: Jimmy Choo Saskia Floral Mule Pump $825 / Gianvito Rossi Plexi Leather Illusion Mule $695
But the real star of this show, are the young people benefit from the event. Since its inception, the Show House has raised over $21,000,000 an amount that currently reaches over 10,000 young people at nine locations throughout the Bronx.
Bunny Williams, James Druckman

As Bunny Williams tells us, "All you have to do is show up at the Kips Bay Club House around 4 in the afternoon and see hundreds and hundreds of kids playing sports, singing, dancing, doing art projects, doing homework or just hanging out and you wonder where would these kids be if they did not have this nourishing place to come to."

James Druckman, President of the Board of Trustees concurs, "The work of the 103 year old Kips Bay Boys & Girls Club is truly extraordinary. We are a flagship for Boys & Girls Clubs of America serving to support and roll out state of the art after school programs involving many aspects of their development. It is an honor for me to serve as the Board President. The show house has always been an important fundraiser for the organization."
For tickets and information, please go to Kips Bay Decorator Show House. There are also volunteer opportunities at the Show House.