March 10-19 in Austin, Texas for SXSW 2017 is one of the most diverse, collaborative, and inventive communities in the world.   The Conference & Festival celebrates the convergence of the interactive, film, and music industries.  We received a what to wear where query from a young friend, excited to be attending.   
Okay, my young darlings, THIS IS NOT COACHELLA!  Leave your Daisy Dukes and flip flops at home!  Dress like a hip profession.   SXSW is all about achieving goals.  Don't be afraid to #EmbraceAmbition.  I consulted my brilliant and beautiful tech wiz, Carla Holtz,  " I have been a few times and there's a bit of cowgirl going on at SXSW – it's a lot of dresses and boots. Sunglasses are a must, as is a big bag that you can carry everything in. Comfortable shoes are also essential."  With that in mind, we put together a Cowgirl-Chic collection to mix and match in style from morning meetings 'til way into the wee hours.   Never underestimate the power of a great looking sheath when you travel.   Here this fringed J. Crew is just made to layer under your little denim jacket.   
Cowgirl Chic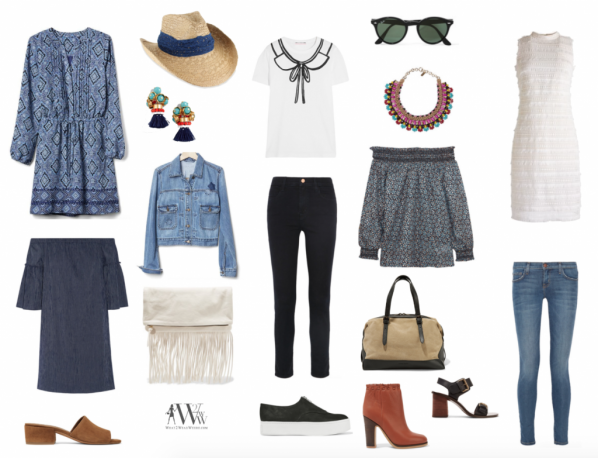 tops & dresses:  Print Split-Neck Shirtdress  $ 69 /  Madewell Off-The Shoulder Striped Cotton-Guaze Mini Dress  $ 120  /  1969 Short Star Denim Jacket  $ 39 SALE/  Comme Des Garcons Girl Printed Cotton-Jersey T-Shirt  $ 130  /  Michael Kors Off-The-Shoulder Smocked Metallic Printed Top  $ 90  /  Petite Sheath Dress In Fringy Lace  $ 138
bottoms:  J.Brean Maria High-Rise Skinny Jeans  $ 190  /  Current/Elliott The Ankle Mid-Rise Skinny Jeans  $ 230
accessories: Broner Janellyn-Wired Brim Western Hat  $ 23 SALE   /  Fun Tassel Earrings  $ 48  /  Ray-Ban Round-Frame Acetate Sunglasses  $ 140  / Etro Gold-Tone Bead And Wood Necklace  $475  /   Clare V Maison Fold-Over Fringed Textured-Leather Clutch  $ 137 SALE  /  Tomas Maier  Textured-Leather And Suede Tote  $ 329 SALE
shoes: Rachelle 2 Suede Sandals  $ 275  /  Vince Warmer Nubuck Sneakers  $ 250  /  See By Chloé Buckled Leather Sandals   $ 315  /  See By Chloé Leather Ankle Boots  $ 395 
South By Southwest dedicates itself to helping creative people achieve their goals. Founded in 1987 in Austin, Texas,  SXSW is best known for its conference and festivals that celebrate the convergence of the interactive, film, and music industries. The event, an essential destination for global professionals, features sessions, showcases, screenings, exhibitions, and a variety of networking opportunities. SXSW proves that the most unexpected discoveries happen when diverse topics and people come together.
Similar Posts: