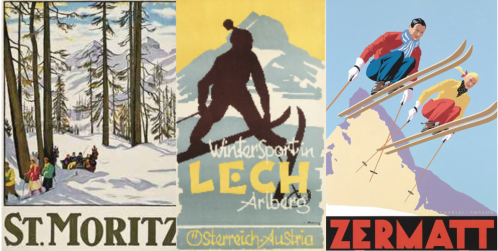 A fellow travelista recently wrote, "Hi, I could use a tip for traveling to St. Moritz before Christmas, Lech Christmas Eve, for Black Tie, and Zermatt for New Year's Eve, tobogganing down to town after dinner. Are the dinner's more fancy compared to America?   P.S I have a casual long  Ralph Lauren Buffalo Plaid Skirt does that scream too American for Europe."
What a wonderful European Adventure.  Some resorts on the continent, like St. Moritz or Gstaad are decidedly more glamourous, (think Aspen) while Lech and Zermatt are somewhat more casual but with European elegance.  Western resorts in the US, tend towards a  cowgirl chic vibe, european resorts have distinctly Bavarian feel to them.  But we love the idea of your Ralph Lauren Buffalo Plaid Skirt gussied up with this Lace Top, a velvet or satin belt, and a pair of pumps or ankle boots.  Add some Statement Jewelry and you are ready for the celebration.  We shopped two of our favorite sites, The Outnet & NET A PORTER to find a great assortment to mix and match for any apres ski event.   One of the most versatile piece for traveling in cold weather is a fur or faux fur vest.  We love this one from GlamourpussNYC for its great style and fit.  The back is knitted so it is super cozy and comfortable.  In the book, Packing for Travel, I recommend packing in a color scheme to save space and time.  Here we have gone with black, accented with creams, and browns for a sophisticated look.  Keeping the basics of a great pair of black pants, you can dress up or down by switching tops, jewelry & shoes.  
Festive and Black Tie Evenings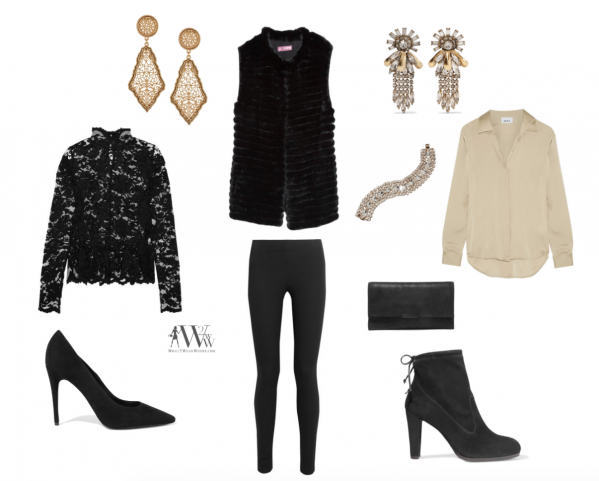 Ganni Stretch Lace Top $150  /  Theory Stretch Wool Pants $265  /  GlamourpussNYC Rex Cord Vest $775  / Kenneth Jay Lane Earrings $25  /  / Elizabeth Cole Crystal Earrings $136  /   Valentino Gold Tone Crystal Bracelet $477  /   Loeffler Glittersuede Clutch $250  /  Alexander Wang Suede Pumps $247    Stuart Weitzman Suede Ankle Boots $565
Cozy and Casually Chic
Theory Cashmere Tank $123   /  Theory Stretch Wool Pants $265  /  GlamourpussNYC Rex Cord Vest $775   /  Embellished Intarsia Knit Sweater $108 /  Chan Luu Cashmere Leopard Print Scarf $245 /   Chan Luu Gold Hoops $205  /    Karl Lagerfeld Scarf $65   /  Sorel Shearling and Nubuck Boots $295  / Kenneth Jay Lane Bracelet $60
For more travel tips and packing lists, please consider a copy of Packing for Travel.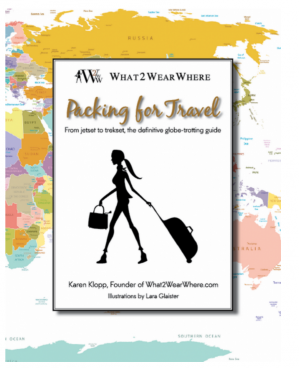 Similar Posts: