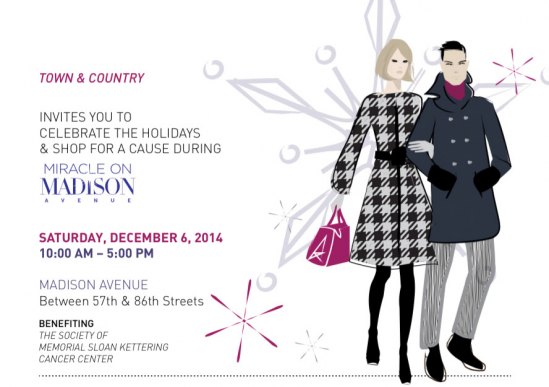 This is the best way to shop for the holidays!  Miracle on Madison Avenue is a New York City philanthropic holiday shopping tradition. The 28th Annual Miracle on Madison Shopping Day will take place on Saturday, December 6th, between 10 a.m. and 5 p.m.  Over 60 premier retailers and businesses on Madison Avenue will participate by donating 20% of sales that day to The Society of Memorial Sloan-Kettering Cancer Center. The festivities will occur in the stores and businesses located between 57th and 86th Streets.
The Society of Memorial Sloan-Kettering Cancer Center Miracle on Madison Avenue is expertly led by Chairmen Courtney Arnot, Muffie Potter Aston and Robyn Joseph.   Some of the prestigious brands include Hermes, Graff Diamonds, Max Mara, David Yurman, Gucci, Missoni, Mulberry, Ralph Lauren and Tory Burch.   Town&Country Magazine and Madison Avenue Business Improvement District and are generously sponsoring this exciting event.  Please turn out in support!

For what to wear strolling Madison Avenue for such a wonderful holiday event, we ducked into Tory Burch and found just what we needed to stay warm and stylish.  Black and Grey continues to be this seasons color story and it happens to be one of our favorites.  If you want to add a punch of color, go right ahead – with a scarf or a bright bag. Personally, we enjoy the simplicity of the muted shadings.   We picked our "winter uniform" of slim pants, turtle neck and boots and choose two fantastic STATEMENT COATS, and some accessories to compliment – all combining for your stylish Saturday sashay.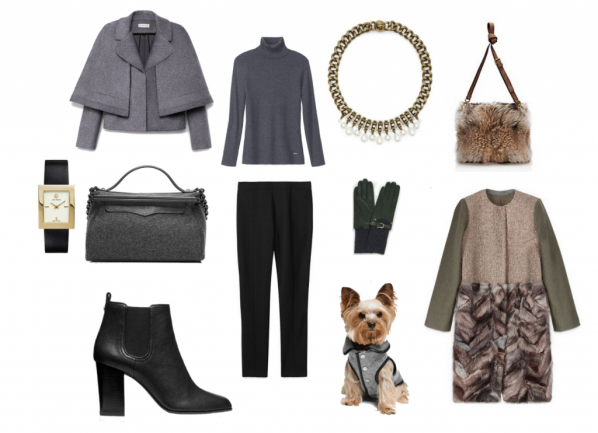 For more information and to purchase, please click on the links.   Tory Burch Jess Convertible Jacket $595   /   Tory Burch Buddy Classic Watch $595   /   Tory Burch Small Frame Flannel Satchel $595   /   Tory Burch Margaux Bootie $231   /   Tory Burch Evangeline Turtleneck $195   /   Tory Burch Adriana Pant $225   /   Tory Burch Marlow Pearl Link Necklace $185.50   /   Tory Burch Leather Knit Glove $195   /   Tory Burch Coyote Fur Muff $895   /   Tory Burch Thea Coat $1,497  SALE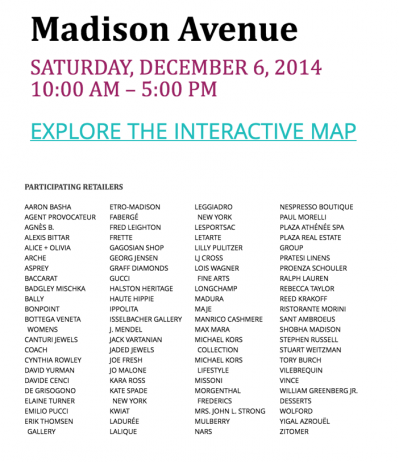 Similar Posts: