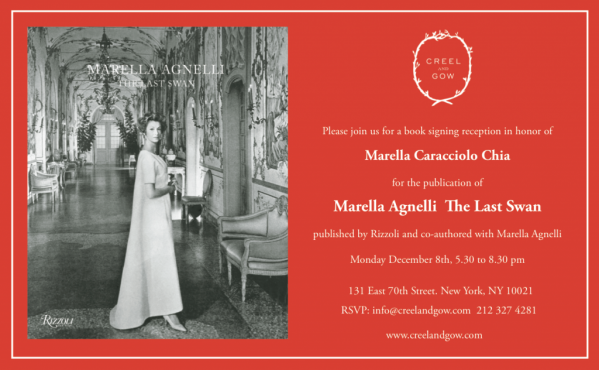 Looking for a great gift for the holidays?   Don't miss this opportunity for a pesonalized copy of The Last Swan.
"The exclusive world of one of the twentieth century's most glamorous and alluring women, as seen through her private homes and gardens. Nicknamed "The Swan" by Richard Avedon when he photographed her iconic portrait in 1953, Marella Agnelli is not only one of the great beauties of the last century, but also the most elegant and cultured of that exclusive club. Born the Neapolitan princess Marella Caracciolo di Castagneto, she became Marella Agnelli with her marriage to Gianni Agnelli, the Fiat industrialist. One of the most photographed women of the jet-set society, she was captured by Avedon as well as Irving Penn, Henry Clarke, Horst, and Robert Doisneau, among others.  With ten residences spread throughout Turin, Rome, Milan, New York, St. Moritz, and Marrakech, ranging from regally classic villas to ultramodern apartments, her impeccable taste shines through in these gorgeous interiors and gardens. One of the famous modern fairy tales of love, glamour, and heartbreak, Marella Agnelli has become an icon of our times."
For more information and to RSVP to the event, please visit Creel and Gow or e-mail info@creelandgow.com.
Similar Posts: