Don't miss The Society Boutique's next event—the Halsbrook Charity Pop-Up Sale which runs from Wednesday, October 8th to Saturday, October 11th from 10:30am to 6:00pm daily.  During the sale Halsbrook.com, a fashion retailer that offers the specialty boutique experience online, will feature exclusive deals on the elegant fashion of American and European designers who are making Halsbrook.com a destination for women seeking the elegance of the speciality boutique experience online.     Want to shop early, friends of What2WearWhere are invited to the VIP Preview Party on Tuesday, October 7th, from 5-8pm.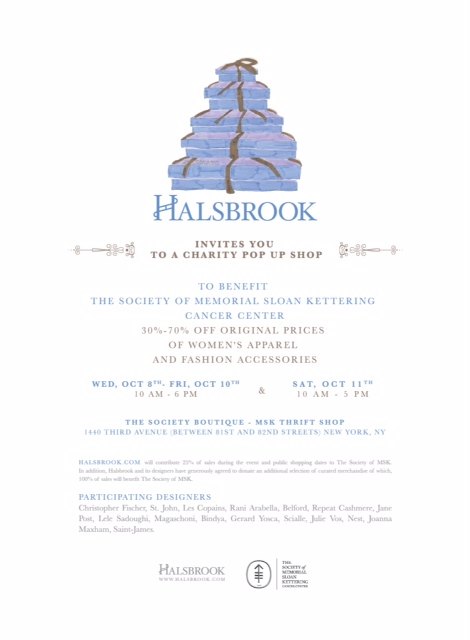 SPECIAL EVENTS AND POP-UP SHOPS
Special sales events and pop-up shops are an exciting way for The Society Boutique to present fresh merchandise, from the best of vintage and new fashions, accessories, home furnishings, and one of a kind items. When The Society Boutique presents a pop-up shops, our partners feature an outstanding selection of new merchandise and significant discounts off retail.
Highlights of the sale include clothing from Paule Ka, Lyn Devon, Max Mara, Repeat Cashmere, Saint James, and St. John, slickers from Jane Post, handbags from Elie Tahari, scarves from Scialle, and jewelry from Nest. Designs will be 30% to 70% off retail prices and percentages of sales from this event will benefit The Society of MSK.  
Similar Posts: