Now this is something really new and exciting.  The first-ever, outdoor equestian sporting event at Trump Rink in Central Park in the heart of New York City, and the first time in a decade that the Big Apple's played host to a major equestrian event.   This  will be transformed into one of the highest profile stages of U.S. show jumping history on September 17 to 24  as some of the best show jumpers and riders in the world will view for top prizes against a backdrop of skyscrapers.
From Thursday Night's Grand Prix Event to Sunday's Central Park Polo Challenge, the show will present something of interest to equestrian enthusiasts and spectators alike.   We have written many articles on what to wear to Polo Tournaments, Horse Shows, Horse Trials  and even one on Horse Show Moms, but this is the first time that we are putting together horse show look in own back yard of Central Park.  We like a dress (you know we do) that is a simple sheath and fits like a dream.  For walking into and around the park, we recommend a pair of wedges, finish with a roomy purse to hold the program and other essentials, like your sunglasses and a packable hat from Eric Javitts.
A Day in the Park at Polo 
For more information and to purchase, please click on the links.   Eric Javits Fedora $150   /   Chloé 'Boxwood' 56mm Sunglasses $296   /   Alexander Wang 'Diego-Rhodium' Metallic Lambskin Bucket Bag $950   /   Jimmy Choo 'Pandora' Sandal $450   /      Kate Spade New York 'Aires Rose Abbey' Print Stretch Cotton Sheath Dress $378

One of the highlights will be a live television broadcast of the $200,000 Rolex Central Park Grand Prix on Thursday from 7:00 to 8:30 p.m. involving the world's top professional equestrian athletes,  as well as a Friday Night NYC vs. the World pro/am competition.  Daily exhibitions will feature different breeds and disciplines and a dressage showcase.
This will be the first show in a planned seven-year commitment recently signed between event organizers and The Trump Organization to stage the event at the Trump Rink. The Central Park Horse Show Presented by Rolex will return Olympic-caliber athletes to NYC for the first time since the National Horse Show left Madison Square Garden in 2001. It will also benefit several New York City charities, including the Central Park Conservancy, City Parks Foundation, Gallop NYC, Mayor's Fund to Advance New York City, NYPD Mounted Unit and the Police Athletic League NYC. Additionally, 50 percent of the matinee tickets will be donated to local children's groups in order to broaden the exposure of equestrian sport.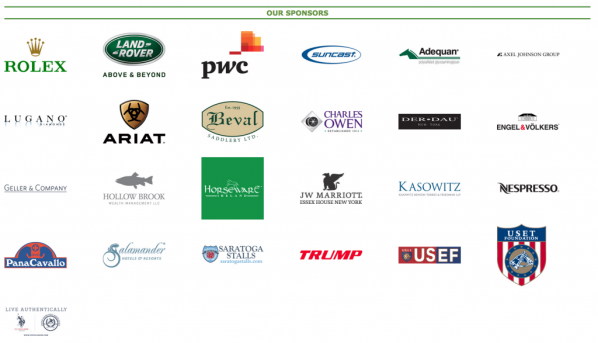 annette@equestriansport.com

Similar Posts: