Please join Chairs, Elizabeth Mayhew and Valesca Guerrand-Hermès for The New York Society for the Prevention of Cruelty to Children NYSPCC, the world's first child protection agency, will hold its third annual Spring Luncheon on Thursday, April 10, 2014 at The Pierre Hotel in Manhattan. The program will be hosted by NBC News' National Correspondent, Kate Snow, and will feature Aaron Fisher, nationally known as "Victim 1" in the Jerry Sandusky child abuse case, his mother, Dawn Hennessy, and his psychologist, Michael Gillum.  The three have co-authored the book, "Silent No More, Victim 1's Fight For Justice Against Jerry Sandusky".   For tickets and for information,please call 212. 233. 5500 x 216.

For what to wear to a spring luncheon, we turned to Tory Burch to provide some of our must-haves for the season.  We selected something blush – the Sandra Jacket; a touch of lace – the Mia Skirt; a lady-like bag; and a great pair of classic pumps,  We managed to fit a little floral into the mix, creating chic and versatile pairings to mix and match all season long.
Tory Burch Mia Skirt $495   /   Margaret Cardigan $325   /   Madura Fret Cuff $195    /   Elisa Samll Dome Satchel $425   /    Crawford Pump $295   /   Sandra Jacket $995   /   Leah Stud Earrings $125   /   Floral Attersee Satchel $795   /   Aimee Slingback Pump $325
About The New York Society for the Prevention of Cruelty to Children
The New York Society for the Prevention of Cruelty to Children (NYSPCC), founded in 1875, is the first – and one of the most highly respected – child protective agencies in the world. The NYSPCC responds to the complex needs of abused and neglected children, and those involved in their care, by providing best practice counseling, legal and educational services. Through research, communications and training initiatives, we work to expand these programs to prevent abuse and help more children heal.
The NYSPCC's unique work is used as a model for child welfare agencies across the nation. Since its founding, The NYSPCC has investigated more than 650,000 cases on the behalf of over two million children, and has educated over 50,000 professionals on how to identify and report child abuse and neglect. Please visit www.nyspcc.org for more information.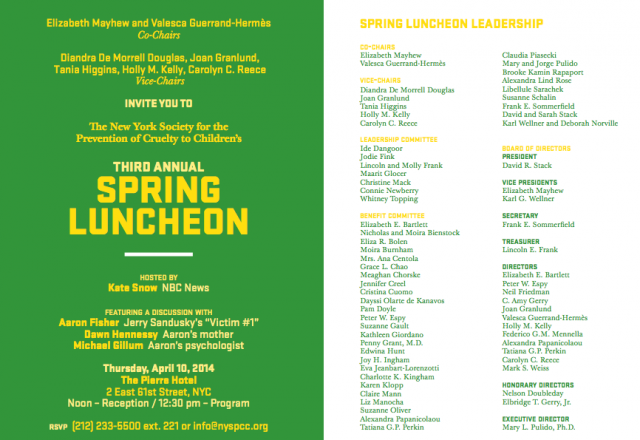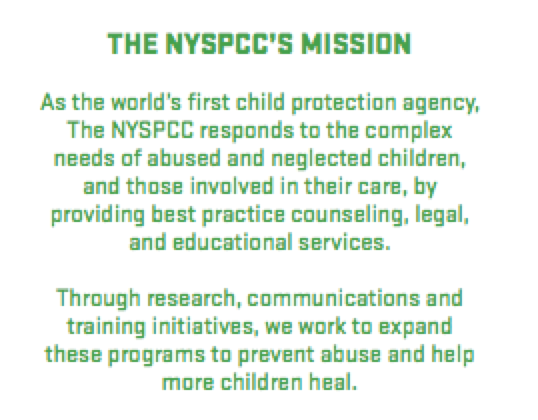 Similar Posts: