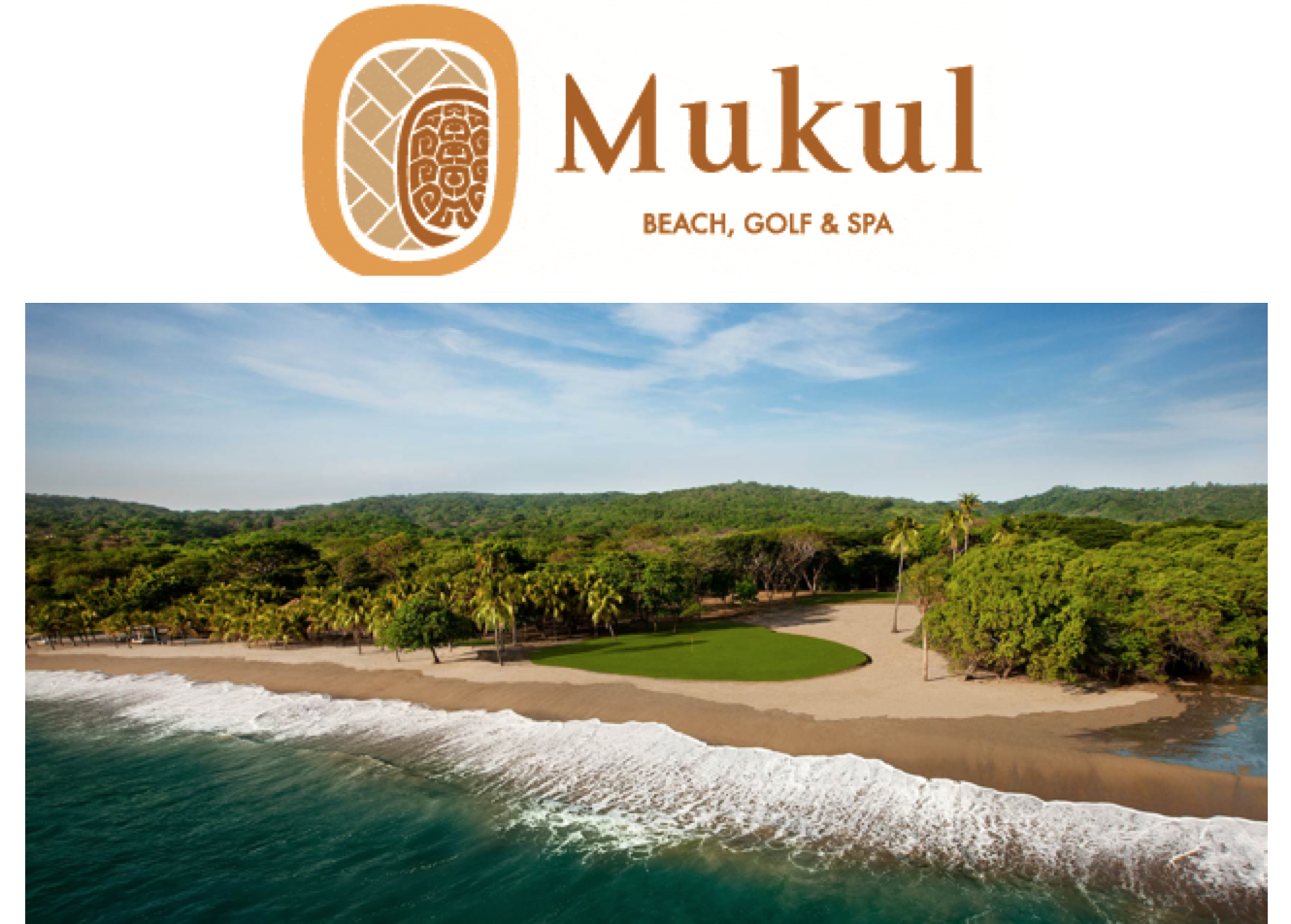 At the last minute before Thanksgiving, we decided to join our friends, the Hottensens on their adventure to Nicaragua.  Son Bobby is starting a brewery, San Juan del Sur Cerveceria, and thus another fantastic opportunity for a HottenKlopp Adventure.  We had first heard of MUKUL Resort from Melissa Biggs Bradley at Indagare.   We find that any recommendation that comes from Melissa and her globe-trotting staff is excellent, and provides access to the best insider advice.   Recommending destinations that they have experienced themselves, they comb the world in search of the finest travel experiences.  At MUKUL, we found one of those very special places.
From your first greeting by the enormously kind and helpful staff, to the breathtaking suites with private pools, hammocks, sitting areas and glassed in showers, to the skillful, native visual design of every aspect of the resort, you feel like you are staying at an old friend's grand casitas on the beach.  We had the pleasure to meet the mastermind behind this sustainable resort  Don Carlos Pellas and his lovely wife Vivian.    He explained that he "is establishing his family legacy – a pristine natural sanctuary where you make authentic connections to the land, culture and people of Nicaragua.  And in return, the surrounding community will benefit from the resulting improved quality of life."  
For what to wear to this tropical paradise, we went packing at
Tory Burch
, where we found a pattern called
Madura
that exquisitely captures the spirit and style of a beach and seaside adventure.  Days are spent surfing, swimming, snorkeling and walking on the white sand beaches.   And for evening wear, consider a long flowing caftan, and a fabulous piece of statement jewelry or a crisp pair of white jeans and a companion tunic. 
Please remember when you click through our site to shop, a portion of our commission will be donate to our
Charity of the Month
. 
Click to see all of
Tory's
Swimwear Collection.
  Whether you like skimpy or fuller cut, and a short or long tunic – and loving the rash guards that are so essential for surfing – there is a fantastic collection.
Daytime Beach & Surf

Madura Tunic $295     Metallic Dunn Wedge Slide $295      Boria One-Piece $210       Aviator Sunglasses $165      Rae Floral Tote $265      Madura Surf Shirt $250      Madure Underwire Top $150      Madura Cinched Skirt $150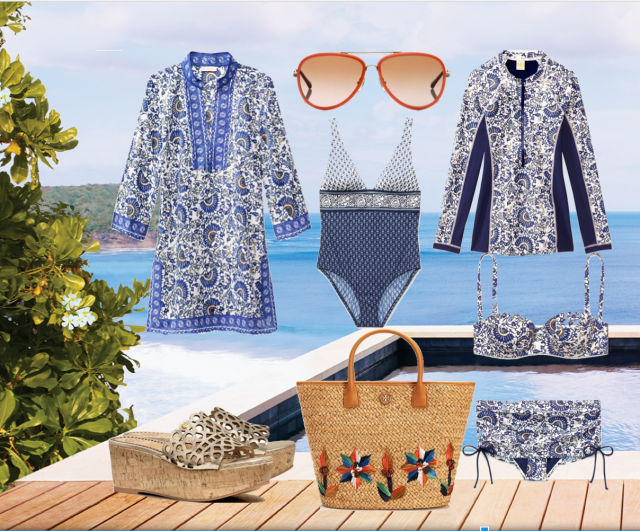 Nightime Tropical Elegance

Boria Caftan $350      Super Skinny Jeans $185      Delphine Statement Earrings $150      Camille Oval Pendant $192.50 ON SALE      Madura Fret Pendant $195      Macy Wedge Sandal $225      Madura Long Caftan $350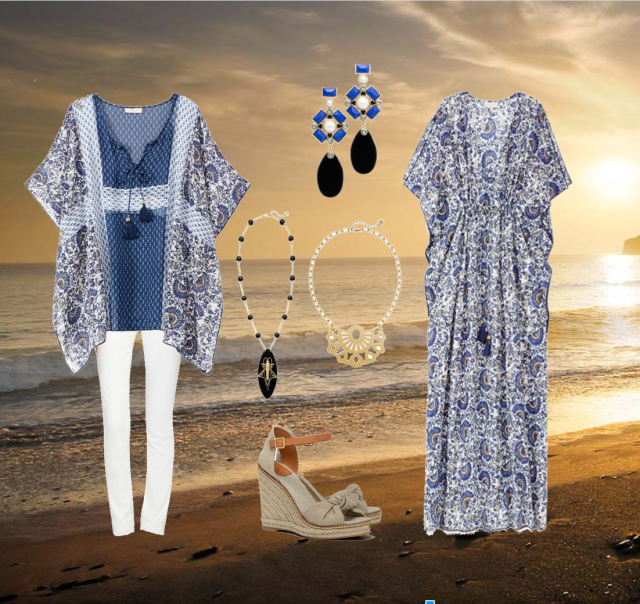 KK's 4 Days in Nicaragua
Day 1.    Fly into Managua, where the Hotel Plaza Colon will provide a driver take you to Grenada.  This charming colonial town founded in 1524 by Spanish conquistador, Cordoba, and is one of the oldest cities in the Americas.   Relax by the pool, stroll through Parque Central to Calle la Calzada, a street filled with music and cafés and enjoy a beautiful meal at one of the local haunts.
Day 2.  Early morning walk to Lake Nicaragua departing by private driver, arrive at  MUKUL RESORT for a sumptious lunch.  Spend the day relaxing on the beach or by your private pool.  Before you head back to your divine suite, take a quick trip to see the howling monkeys returning to their roost, just behind the 18th hole.  Dine en plein air at the resort's restaurant and stroll the perfect sand beach in the moonlight.
Day 3.   Early morning surf lessons.  Then charter a boat to take you to San Juan del Sur about 40 minutes away.  Stroll the streets and pop into the shops.  Make sure to stop by the Brew Pub of San Juan del Sur Cerveceria, opening in January.  It will boast a menu of local fare prepared in a unusual yet authentic manner.  On the return cruise, snorkeling is the order of the day as the boat, equipped with all the gear, and will moor at a floating gazebo with nearby reef.   Back to the beach to spa, surf,  rest, or get in a little golf.  The green of 18th hole is at the beach with a fantastic beach bar to watch the sunset.
Day 4.  Do not leave without at least one visit to the SPA MUKUL, it is a paradise of six individual, private spa casitas, each  harnessing a different ancient healing tradition, Secret Garden, Rain Forest, Crystal Temple, Healing Hut, Mukul and Hammam.    Surf, sun, golf, hike, spa, or just enjoy the luxury of this resort which is becoming a must-go destination for those in search of a unique and private pleasure.
For more photos, please visit our Facebook Page.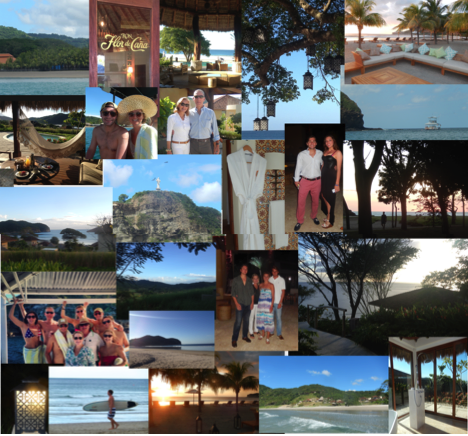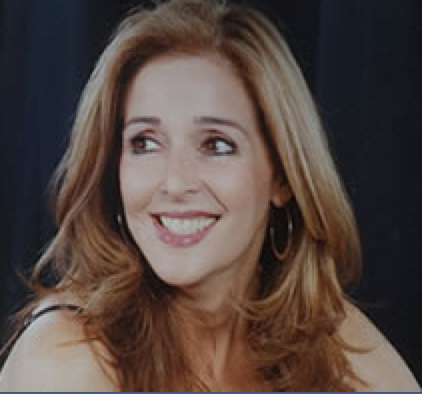 While in MUKUL, we had the pleasure of meeting a very special person, Vivian Pellas.  After suffering excrutiating burns and injuries from a plane crash, Vivian and her husband Carlos, created a foundation and hospital to treat children with burn injuries and congenital deformalities.  To date 370,000 medical services have been provided free-of-charge to children.  To see more about Vivian's story, please go to Vivian Pellas on YouTube.
Similar Posts: