Take a break from the chilly New York weather while keeping your cool,  and head south to Miami Beach, Florida from December 6 – 9 for Art Basel Miami, the most prestigious art show in the Americas. More than 260 leading galleries from North America, Europe, Latin America, Asia and Africa will showcase works by more than 2,000 artists of the 20th and 21st centuries.  Go to Art Basel to see the online catalog, and for questions or more information, email Donnamarie Baptiste at donnamarie.baptiste@artbasel.com.
NET-A-PORTER is our go-to when in need of chic pieces with that perfect bit of "edge."  We love the urban-cool appeal of Reed Krakoff's leather-paneled black top, which we teamed with Diane von Furstenberg's ultra-flattering 'Mahalia' skirt. Its sweet cotton-blend lace draws focus while the sporty stretch-crepe panels create a streamlined silhouette.  If you're feeling graphic, go with Marc by Marc Jacobs's boldly banded stretch-twill 'Scooter' dress and watch your sartorial status soar.  Or, zip into this fabulously fringed faux leather by La Petite S*****'s.   This edgy design promises to make you stand out from the cocktail crowd to high critical acclaim.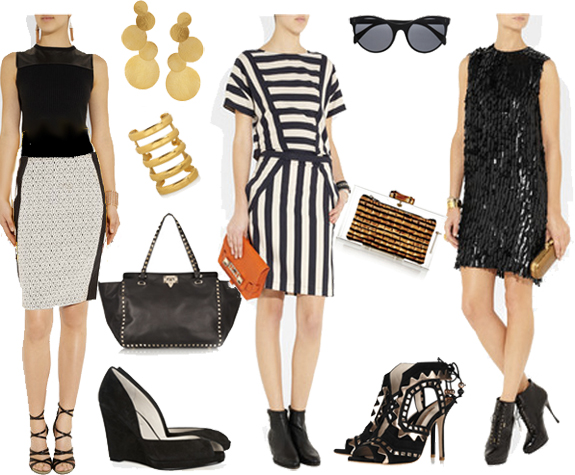 DRESSES: DVF Mahalia Cotton-blend Lace and Stretch Skirt ($265), Reed Krakoff Leather-paneled Knitted Top ($790), Marc Jacobs Scooter Striped Stretch-twill Dress ($398), La Petite Faux Leather-fringed Silk Dress ($783)
ACCESSORIES: Herve Hammered Disc Clip Earrings ($440), IllestevaClaire Cat Eye Sunglasses ($220), Aurelie Biderman Esteban 18-karat Gold-plated Cuff ($735)
SHOES & BAGS: Valentino The Rockstud Leather Tote ($2195), Charlotte Olympia Pandora Bamboo Clutch ($895), Michael Kors Suede Peep-Toe Wedge Pumps ($195), Sophia Webster Riko Cutout Suede and Leather Sandals ($695)
While in Miami, don't miss the Rachel Lee Hovnanian's works from the Reflections of Narcissus at the Leila Heller Gallery at Art Miami.  The series consist of multi-layered and textured metal paintings which gleam with lavish metallic leaf on linen.

Similar Posts: