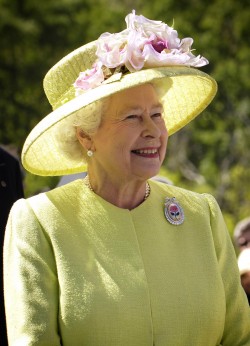 A celebration of Her Majesty Queen Elizabeth II's 60 years as supreme monarch of the United Kingdom, the Queen's Diamond Jubilee will not disappoint. The festivities will kick off on Saturday, June 2 with the Diamond Jubilee Derby in Surrey, where the Royal Family will be in attendance. Sunday's Big Jubilee Lunch will see Brits all across the country gathering together to toast the Queen at communal lunch parties, mirroring last year's royal wedding street parties. The Thames Diamond Jubilee Pageant will follow, with a fleet of 1,000 ships making their way from Putney east to Tower Bridge. The Queen and most of the royal family, including Will and Kate, will be found aboard luxury river cruiser "The Spirit of Chartwell."
Those of us who won't be able to make it across the pond to join in the merrymaking need not fret – NBC, CBS, ABC, CNN, and BBC America will all provide coverage – both online and on-air – from Saturday through Tuesday.  See here for specific coverage details.  For a more detailed listing of events, scroll below.
UPON MEETING HER MAJESTY
If you are so fortunate as to meet Her Majesty, here are a few simple tips to guide you.  Stand when the queen enters the room.  If you are not a subject, you are not required to curtsy or bow but if you are so inclined, a discreet bob will do.  No touching – wait for the Queen to extend her hand and then touch it lightly.  Address the Queen as "Your Majesty" then later on as "Ma'am."  And as for what to wear to meet the Queen, we chose this lady-like ensemble of from Red Valentino, with simple floral sheath and shaped coat.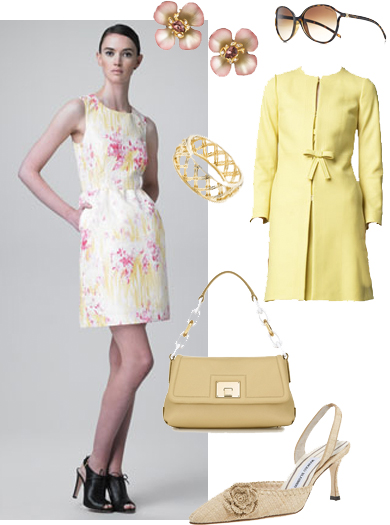 SHOP NOW: RED Valentino Floral-Print Dress ($650), Alexis Bittar Floral Clip Earrings ($295), Tiffany Signature Butterfly Sunglasses ($290), RED Valentino Bow-Waist Coat ($895), Villa Paloma Wide Trellis Bangle ($7500), Arden Shoulder Bag ($1295), Manolo Blahnik Raffia Rosette Halter ($765)
We went hat and fascinator shopping at Kokin for the perfect accessory.

Meanwhile back in New York City . . .
The festivities will abound stateside as well on June 3rd, with the Jubilee Celebration at Jones Wood Foundry — 401 East 76th Street, New York, NY — from 11am to 8pm.  "Jones Wood Foundry will become awash in Union Jacks as Anglophiles and British Expats come together to celebrate this historic occasion with a Toast to the Queen.  Traditional British food will be served, with entertainment in the courtyard from live music to street performers, making it a Great British Day!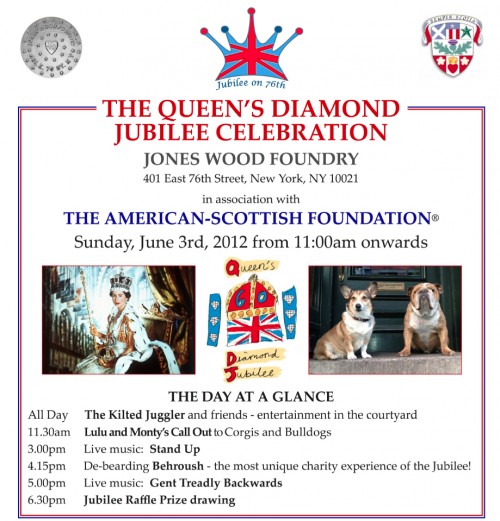 Finally, back on American soil, the evening of Tuesday, June 5 will see Fifth Avenue alight with British-inspired merriment with a Choral Evensong at Saint Thomas Church, followed by a lovely Reception at the Peninsula Hotel.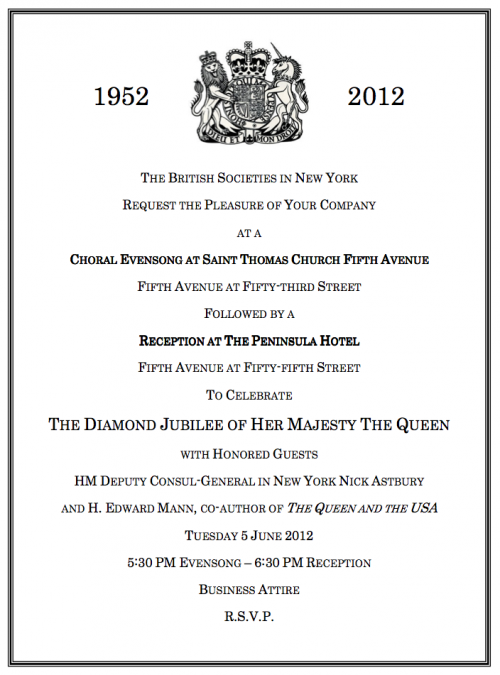 Meanwhile back in London . . .
On Monday, the Diamond Jubilee Concert at Buckingham Palace, picnic in the Palace garden, and lighting of the national beacon will keep everyone busy. The free three-hour concert will give royals and commoners alike the chance to dance, and will include a Diamond Jubilee song called Sing, written especially for the occasion by Andrew Lloyd Webber and Gary Barlow. The 18,000 lucky attendees were chosen by ballot as well as from a selection of local charities. After the picnic in the Palace Garden, the Queen will light the National Beacon on the Mall, the last in a chain of more than 2,000 such beacons being set alight throughout the U.K. and the Commonwealth.
The merriment will finally come to a close on Tuesday, the Ceremonial Day: "The Queen, the royal family, and 2,000 British worthies will attend an Anglican thanksgiving service at St. Paul's Cathedral. Following, the queen and royal family will attend private receptions, then a lunch at Westminster Hall. They will depart Westminster by horse-drawn carriage for the Royal Procession back to Buckingham Palace, with the route lined with military bands and troops from the three military services. Just before 3:30 p.m. local time, all the royal family will assemble on the balcony for ceremonies."
Cheerio, and see you there.  Long Live the Queen!
Similar Posts: