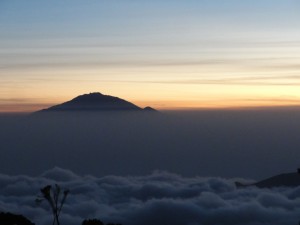 Every one asks, "Why?"  My friends are terrifically supportive and murmur words of polite encouragement, except my friend Eric, who is a real climber.  "KK, are you crazy?   Hmmm, I am starting to get a little nervous.  It is not a technical climb, just a hike – a hike in high altitude and freezing temperatures.    Did I mention that I have trouble in Aspen, a mere 10,000 feet above sea level as compared to Kili which is almost double the height?   Feeling a little jumpy,  but shopping on-line for the right wardrobe and equipment calmed me down a bit, afterall, that is where my expertise lies.  For a complete Packing List go to Packing for Kilimanjaro.  For more info, please go to Climbing Kilimanjaro Part Two.
Layers, layers, layers.  Here are my picks.  Of course, we would look for a complementary color scheme, like this scrumptious orange sherbert, and went shopping at Athleta, Paragon and Patagonia.

Training?  Oh yes, I am training and cramming the last 20 years of being in so-so shape into one month of grueling workouts.    John, my incredibly supportive, intelligent spouse, encouraged the exploratory escapade, but when asked if he will be joining us on the 7 day adventure in deprivation, he practically screams, "ABSOLUTELY NOT" – and he IS in excellent shape.
Left to Right: Athleta Printed Muscle Up Tank ($39), Patagonia Capilene 1 Silkweight Stretch T-Shirt ($29), Patagonia Merino 3 Midweight Zip-Neck ($95), Patagonia Re-Tool Snap-T Pullover ($119), Patagonia Super Alpine Jacket ($599)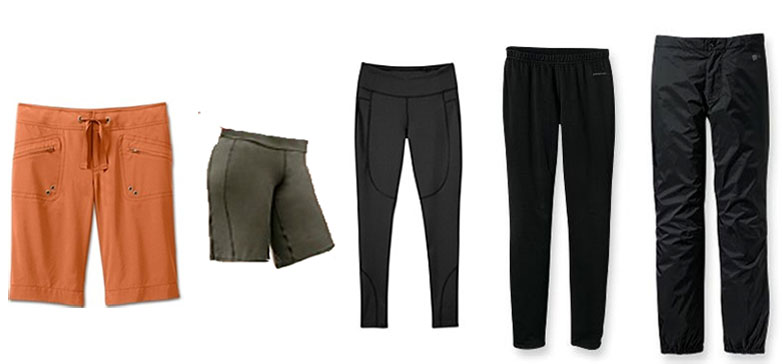 Left to Right: Athleta Breeze Bermuda Shorts ($49), Athleta Kickbooty Bermuda Shorts ($46), Athleta WorkitOUT Tight ($59), Patagonia R1 Pants ($89), Patagonia Rain Shadow Pants ($149)
Must-have down jacket for warmth at night and hiking in the cold.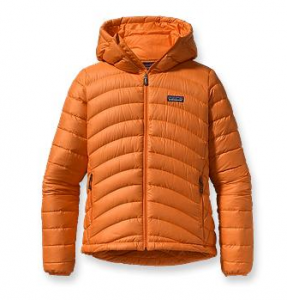 Patagonia Down Sweater Full-Zip Hoody ($250)
Tim Lapage from  Safari Experts, an outfitter that specializes in "off-the-beaten track", personalized Safari Tours and Adventures has assured me of the 98% success rate but if the high altitude causes one of us to turn back, he has the staff to do it.  Oh dear!   At this point I am not sure what is worrying me more; not making it to the top, or MAKING it to the top.     But whatever may be, I will be dressed and geared to the 9's.   From various experts and afficionados, I have gleaned the following  list of must-haves for my backpack.
IN MY BACKPACK
2 Waterbottles and Flavored Drink Mix
Camera and Waterproof bag
Cellphone and Waterproof Bag
Tilley Hat
Energy Jelly Beans
Bandaids and Blister Packs
Friction Stick
Hand Wipes
Baby Powder  (for removing grit from skin)
Water Proof Pants and Jacket (in case of rain)
Leg Gators  (keeps dirt and moisture from pants and boots)
iPod Shuffle  (apparently iPods can freeze)
Solar Charger (hoping it works)
Change of Shirt and Bra (to keep dry)
Insect Repellant
Sanitizing Spray
Sunglasses  (IREX protection rating of 100)
last but not least, a tube of Tom Ford's Private Blend Lip Color (does this surprise anyone?)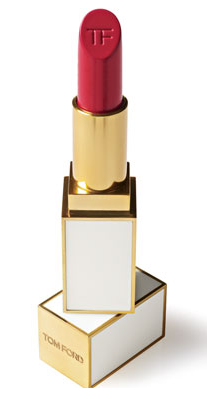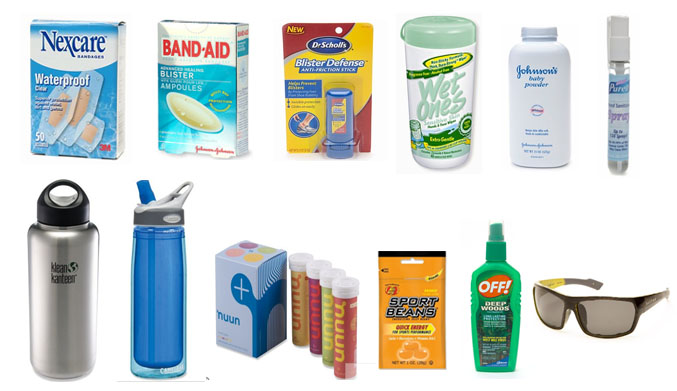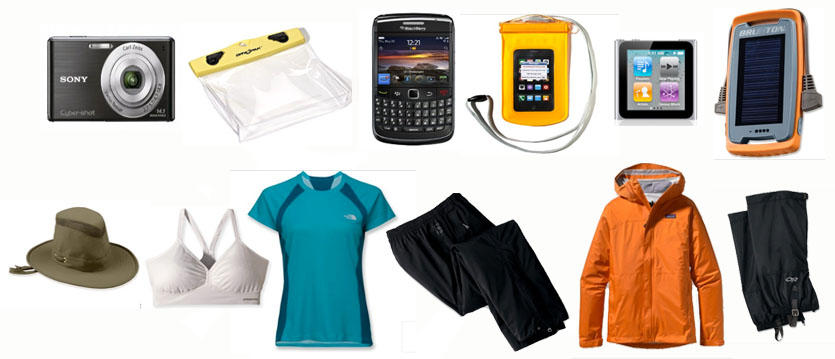 Top Row Left to Right: Nexcare Waterproof Clear Bandages ($4.79), Band-Aid Blister  Cushions ($4.79), Dr. Scholl's Blister Defense Anti-Friction Stick ($6.99), Wet Ones Hand & Face Wipes, Extra Gentle ($3.29), Johnson's Baby Powder ($3.45), Purell Instant Hand Sanitizer Spray ($1.79) Second Row Left to Right: Klean Kanteen Wide-Mouth 40 oz. Water Bottle ($27.95), CamelBak Insulated 20 oz. Better Bottle ($20), NUUN Active Hydration Water Tablets Variety Box ($22), Jelly Belly Sport Beans ($1.25), Off! Deep Woods Insect Repellant ($4.79), Native Eyewear Apex Women's Sunglasses ($109) Third Row Left to Right: Sony Cyber-Shot Camera ($118), Dry Pak Camera Case ($12), BlackBerry BOLD ($384.99), Seattle Sports E-Merse Submersible Electronics Case ($15), Apple iPod Nano ($149), Brunton Freedom Portable Power Charger ($69) Last Row Left to Right: Tilley LTM6 Airflo Hat ($77), Patagonia Sports Bra ($45), North Face Crew Shirt ($35), REI Ultra Light Waterproof Pants ($79.50), Patagonia Torrentshell Jacket ($119), Outdoor Research Rocky Mountain High Gaiters ($37)
And soooo much other great gear!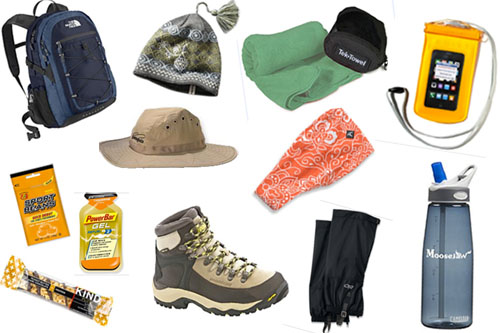 Left to Right: The North Face Borealis Daypack ($79), Jelly Belly Sport Beans ($1.25),  PowerBar Gel ($1.25), Kind Bar ($2), Tapestry Hat by SmartWool ($40), Patagonia Sun Booney Hat ($39), Montrail Women's Feather Peack GTX Boot ($190), Sea to Summit Tek Towel ($19.95), Prana Burnout Headband ($12), Outdoor Research Rocky Mountain High Gaiters ($37), Seattle Sports E-Merse Submersible Electronics Case ($15), Moosejaw 1L Camelbak Water Bottle BPA Free ($16)

Similar Posts: