The Dress for Success Something to Share Gala will be a very special event, chaired by Bobbi Brown and Maureen Case. Shortly after its founding in 1997, the organization became known for providing suits to disadvantaged women returning to or entering the workforce. Since then, their mission has greatly expanded, reaching more than 50,000 women around the globe each year with encouragement and support and yet the suiting program remains a crucial part of their work and a vital first-step in a woman's journey toward self-sufficiency.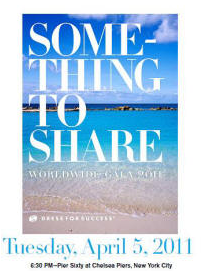 To find out more about this accomplished organization, how to become a mentor and where you can donate your suits to help other women entering the workforce, please go to Dress for Success.com.
The theme for the event is Beach Chic Cocktail and we found a Ralph Lauren beautiful ocean blue dress with a wave of a ruffle. Buy this dress now and wear it for Mother's Day, Passover, Easter and right through the Graduation season.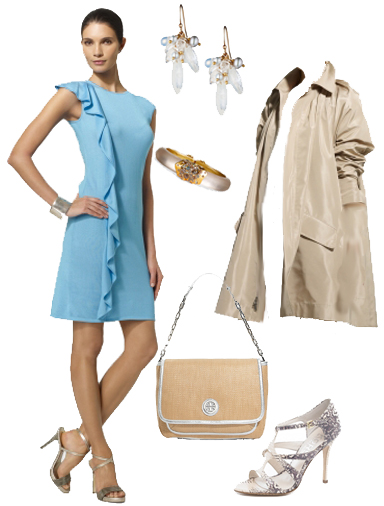 Left to Right: RL Black Label Knit Silk Cascade Dress ($698), Alexis Bittar Samll Semiprecious Cluster Earrings ($195), RL Black Label Devora Silk Faille Swing Coat ($1398), Alexis Bittar Safari Dust Medium Hinged Bangle ($375), Tory Burch Synthetic Straw Shoulder Bag ($350), MK Sasha Lizard-Embossed Sandal ($250)
Something to Share Event Committee
Frank Aquila, Sullivan & Cromwell LLC  –  Maria Bartiromo, CNBC – Dale Booker
Vanessa Bortnick, Kimpton Hotels & Restaurants – Jenne Britell, United Rentals, Inc.
Eileen Brumback, GE  – Tory Burch – Mary Ellen Burke – Judith Byrd  – Doug Checkeris, MediaCom
Jill Cohen – Jill Collage – Patricia Dugan, Corcoran Group Real Estate – Emme
Rose Jackson Flenorl, FedEx Corporation – Alex Garfield, Peace of Cloth – Julie Greenwald
Marta Harmon, The Style Network – Arianna Huffington – Nancy Johansen, Diageo NA
Tracey Lee Kemble – Jacquie Lee – Cindi Leive
Niki Leondakis, Kimpton Hotels & Restaurants – Suzanne Lovell, Suzanne Lovell, Inc.
Bari Mattes – Dottie Mattison, Guggenheim Partners, LLC – Glenda McNeal, American Express
David Meister – CJ Miller – Marla Miller – Ericka Nelson, The Muse New York
Jaime Nortman, Peace of Cloth – Jane Sarkin O'Connor – Erica Reid  – Deborah Roberts, ABC News
Desiree Rogers, Johnson Publishing Company – Amy Rosi, Aros Communications
Rachel Roy – Matt Rubel, Collective Brands – Susan Saint James – Jane Sperrazza, MediaCom
Alicia Valencia, Bobbi Brown Cosmetics – Caryn Zucker
Similar Posts: