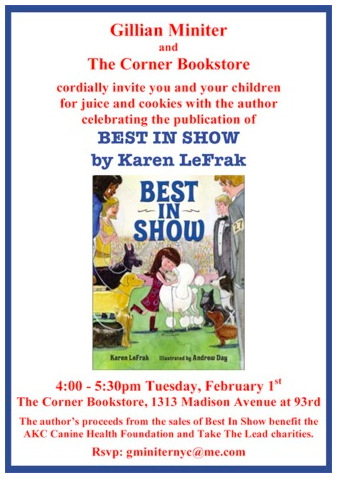 Did you know February is DOG MONTH in New York? Start it off on the right paw by stopping by The Corner Bookstore for a juice and cookie book signing of Karen LeFrak's new book, Best in Show. It is a subject that Karen knows a great deal about. She breeds and shows champion poodles, including two-time Westminster Non-Sporting Group winner Ch Ale Kai Mikimoto on Fifth, better known as Miki. Miki earned 88 Best in Show titles and was America's number one Standard Poodle for three consecutive years. Karen is donating her proceeds from the sales of Best in Show to the American Kennel Club Canine Health Foundation and Take the Lead. For more information, schedules and for tickets, please go to The 134th Westminster Kennel Dog Show. With all things canine on the mind here are some of our favorite picks for what stylish NYC dogs are running around in!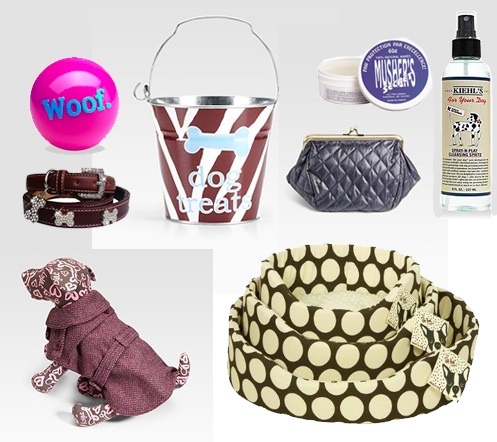 Clockwise: Planet Dog Woof Ball ($11.71), Luxe Bone Swarovsky Collar ($38), Macbeth Bitsy Dog Bucket ($40), Wax Paw Protection ($13.85), Juicy Couture Kisslock Water Bowl ($35), Kiehl's Cleansing Spritz ($13), Juicy Couture Herringbone Dog Trench ($55), Cotton Tale Dandie Dot Bed ($29)
Among her many and varied interests Karen LeFrak breeds and shows champion champion standard poodles with the expert guidance and mentoring of Wendell Sammet. She is proud of their illustrious show dog Ch. Ale Kai Mikimoto on Fifth who earned two consecutive group wins at Westminster and Best of Breed at the Poodle Club of America. "Miki" retired from competition as America's number one standard poodle with eighty-eight Best in Show titles to his name. He has sired nearly 80 champions and Best in Show winners to date. True to her philanthropic spirit, Karen donates her proceeds from her books to such causes as the New York Philharmonic, the American Ballet Theatre, the New York City Ballet, the AKC Canine Health Foundation, and Take the Lead. For more information about Karen please see Karen Lefrak.com.
Similar Posts: